Friends & Supporters of
The Daltons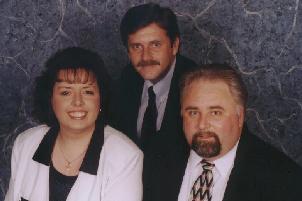 Dear Friends in Christ,
Thank you for visiting our home page and taking the time to get to know us personally. We would like to take a few minutes to tell you about ourselves. You can click on our pictures above to learn more about each of us individually.
Jeff and Randy, who are brothers, have been musicians for about 22 years now. There interest in music began at home, since their mother played guitar and their father and older brother played banjo. With 9 children they made very few trips to town, and music became their main source of entertainment, gospel being their favorite.

Two years ago, Jeff and Randy decided that they wanted to create their own style of music using several songs they wrote. The Lord soon led Randy to meet an old friend, Kim. Kim was not only a wonderful Christian woman, she also had a voice that blended well with Jeff and Randy's. It was a match made in Heaven, because soon after that Kim joined The Daltons as Randy's wife.
The past four years we have been invited to Share our ministry in over 350 different Churches. We have met some of the most wonderful Christian people and shared our Love of Jesus.
Yes, He has truly Blessed us.

We would like to invite you to join us in worship if we are visiting in your area.
May God Bless You and Lead You Home,
The Daltons